The haulage industry says it is struggling to find enough heavy goods vehicle (HGV) drivers to keep the economy moving.
HGVs transport just about everything around the country.
But thanks to a combination of Covid, Brexit and other factors, there aren't enough drivers to meet demand.
How serious has the problem become?
Based on a survey of its members, the Road Haulage Association estimates there is now a shortage of more than 100,000 drivers in the UK, out of a pre-pandemic total of about 600,000.
That number included tens of thousands of drivers from EU member states who were living and working in the UK.
Even before Covid, the estimated shortage was about 60,000 drivers.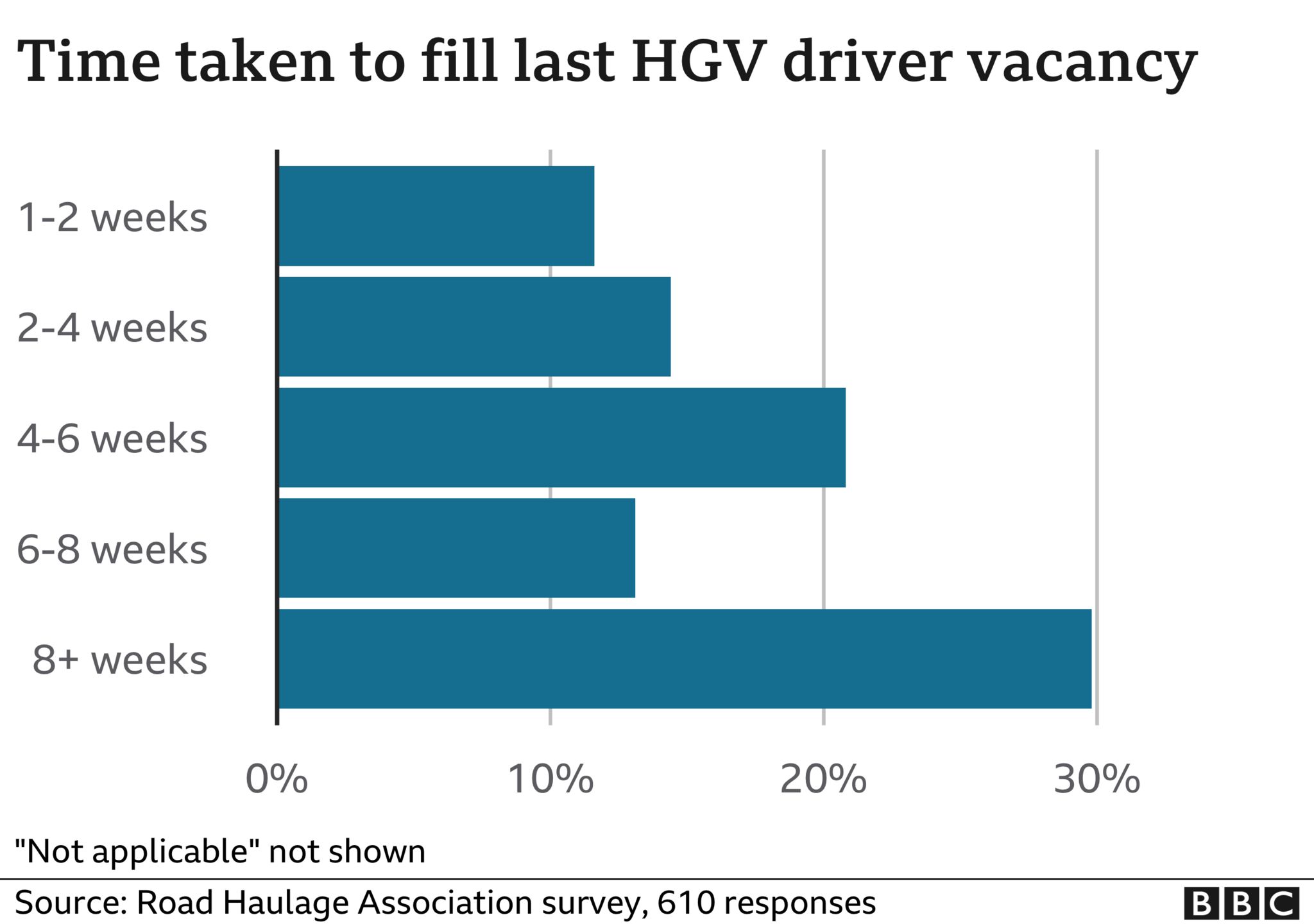 But thing have got worse, and there are now warnings from companies and hauliers that they can no longer guarantee all pick-ups and deliveries.
Among those speaking up recently are the supermarket chain Tesco, and the sweet manufacturer Haribo.
Concern has also been expressed by farmers, by the construction sector and by manufacturers who rely on a tight schedule of deliveries.
Why now?
There are a number of reasons why the shortages have become so severe.
Covid is certainly part of it. As travel became increasingly restricted last year, and large parts of the economy shut down, many European drivers went home. And haulage companies say very few have returned.
The pandemic has also created a large backlog in HGV driver tests, so it's been impossible to get enough new drivers up and running.
What about Brexit?
Then there's Brexit. It was another reason why many European drivers went back to their home countries, or decided to work elsewhere.
When the UK was part of the single market, they used to be able to come and go as they pleased.
But the additional border bureaucracy meant it was too much hassle for many of them to drive into and out of the UK.
Many drivers are paid by the mile or kilometre rather than by the hour, so delays cost them money.
Tax and conditions
There have been tax changes making it more expensive for drivers from elsewhere in Europe to work or be employed here.
The reform of the IR35 rules – on how people working off the payroll pay tax – are designed to prevent workers from setting up limited companies through which they pay less tax and National Insurance while working, in effect, as an employee.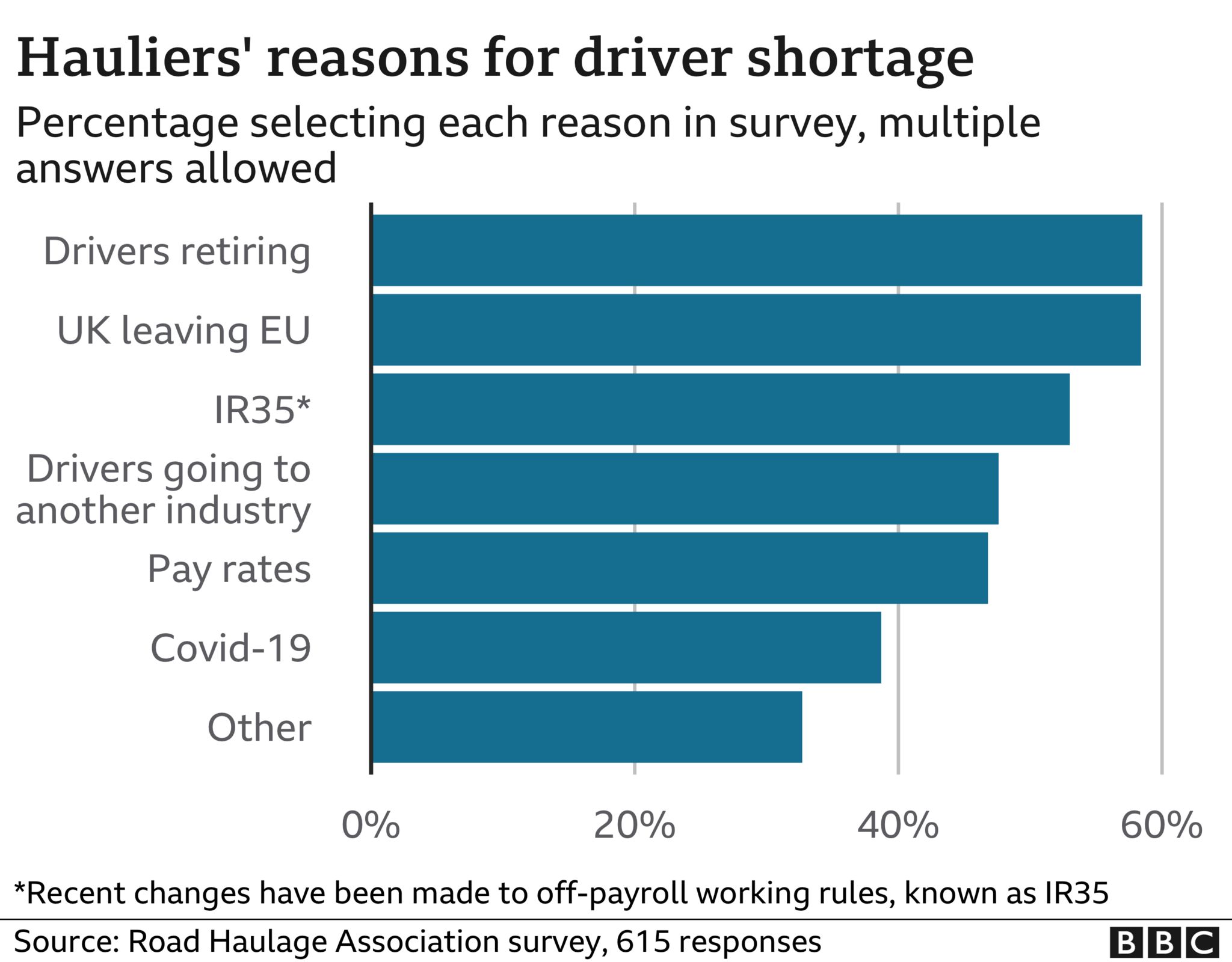 But it means there's less incentive for them to come and work in the UK because they make less money.
Haulage companies also want better conditions for drivers in general, and a recognition that they are a vital part of the economy.
They say the average age of HGV drivers in the UK is 55, and more needs to be done to attract younger workers.
"The main reasons for the shortage have always been centred around the workforce being an ageing population," says Vikki Woodfine, head of road transport and logistics at the legal and business services group, DWF.
"It is not a role that seems to encourage or appeal to enough younger potential employees entering the market. This issue has of course then been exacerbated by Brexit."
What is the government doing about shortages?
For now, the government has slightly relaxed the Drivers' Hours rules, which means drivers will be able to increase their daily driving limit from nine hours to 11 hours twice a week.
"This will allow HGV drivers to make slightly longer journeys," a government spokesperson said, "but must only be used where necessary and must not compromise driver safety."
Further measures are due to be announced shortly, the spokesperson said.
But the temporary extension to driver hours, which runs until 8 August, has been criticised as compromising safety standards, and the industry says it will do little to ease the problems it is facing.